The Club welcomes new members, and for anyone interested in taking up the hobby there is a wealth of information right here on our website to help get you started. You can read and download the booklets and other information from the Articles webpage of this website. Many of these are aimed specifically at helping newcomers to climb the several learning curves involved. There are also excellent booklets available to read and download from the BMFA, and there are even helpful videos you can view right here on our website, including a "Getting Started" video produced by the BMFA.
In common with all forms of aviation, model flying is governed by the UK Civil Aviation authority (CAA) and there are some simple legal preliminaries which must be observed before you can start flying. These are all explained in the articles here on our website. You will also need to join the British Model Flying Association (BMFA) which provides vital third party insurance as a benefit of membership. The Club offers free flying tuition for novices, using dual-control radio transmitters whenever possible, so newcomers to the hobby can quickly get started.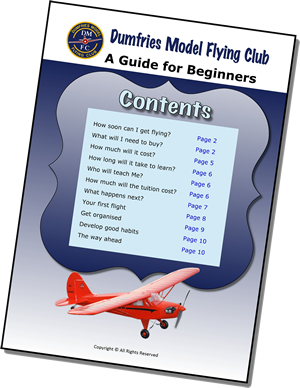 We also welcome experienced model flyers, either as visitors or new members subject to all Club rules which includes providing proof of current membership of the BMFA and a minimum basic flying safety accreditation if they wish to fly solo.
If you are returning to the hobby after a break of many years you will probably find that much has changed. Most notable is that quiet electric power has largely (although not completely) taken over from the internal combustion engine. Model flying is just as much fun as ever though, and the new technologies are not difficult to master.
Visitors are not permitted to fly alone at our site if no Club members are present, and non-flying visitors are not permitted to enter the flying area. Visitors, including guests of current members, who fulfil the above criteria and who wish to fly at our club site may attend and fly on up to four occasions per year. If they wish to exceed this number of visits they must apply for full club membership. It should be understood that the provision and maintenance of a superb flying site such as ours is a considerable on-going expense to our small Club, and donations to the Club by visitors enjoying our facilities are gratefully received. The Club reserves the right to refuse access to our site to any person at any time without explanation, and Club Officers have the right to exercise such a ban without prior notice.
Further information on "How to Join" the club is available from the next webpage.
Anyone interested in visiting, having a trial flight or joining the club should first make contact via the "Contact Us" webpage. We will then make the appropriate arrangements to meet you at the Club flying site at a mutually convenient time.