Dumfries Model Flying Club is affiliated to the British Model Flying Association (BMFA). This organisation provides a framework of safety rules and regulations, and also a programme of flying skills development, through various stages of training, testing and achievement certification. Individual membership of BMFA is a requirement for all DMFC members as BMFA also provides third party insurance as an important benefit of membership. It is a condition of flying at our club site that all individuals carry adequate third party insurance and members and visitors who fly at our site must therefore be able to prove current membership of BMFA at all times.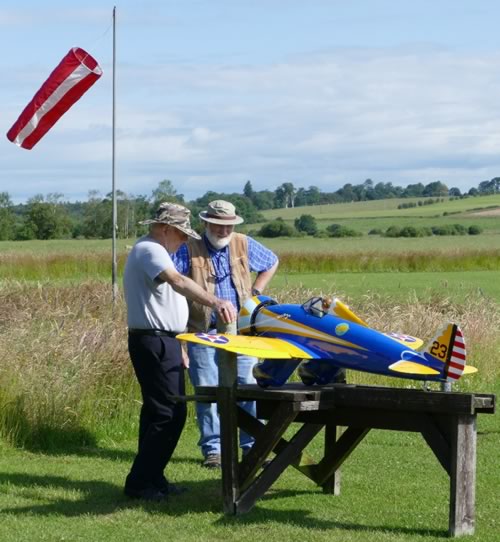 Safety is always a prime consideration in model flying so, in common with most model flying clubs, pilots are required to have achieved a basic safety certification test before they are permitted to fly solo. Until then they may only fly under supervision of an experienced pilot. There is also a legal requirement for model flyers to obtain a CAA Operator ID and a Flyer ID, via a simple online process. See the Safety Matters page of this website for more details.
Model flying is a diverse hobby which covers many different interests and disciplines which give it a very wide appeal. Several of our members are keen aeromodellers who design, build and fly their own creations from scratch, but those skills are no longer a necessary aspect of model flying. These days there is a huge variety of models available in ARTF (almost ready to fly) form, and many of these simply screw together so that they can be ready to fly within a very short time after opening the box!
This means that radio-controlled model flying has never been easier or cheaper to get into. New technology has brought big improvements to the hobby too, and perhaps the most far-reaching development in recent years has been the move towards quiet, clean, electric-powered flight, which has now become the mainstream power-train of choice for most of our members. Computerised radio transmitters with memories for different model settings have also brought great benefits as well.
The Club welcomes new members and every assistance is freely given to those who are new to the hobby. We can provide advice regarding the selection and assembly of a suitable trainer model and related equipment, and most importantly, we also provide free tuition in learning to fly - wherever possible using dual-control transmitters. Indeed free flying tuition is available right through to advanced flying techniques and aerobatics for those who wish to develop their flying capability.